Frankenstein
The novel "Frankenstein", which was written by Mary Shelley, is about a creature produced by a scientist. Shelley started writing the story when she was 19. At the age of 21, this book was published. The first edition was published anonymously in London in 1818. When I saw the cover picture of this book, I felt a little fearful, but I still looked forward to reading it.
The novel began with explorer Robert Walton traveling to the Pole. He found a man frozen in a block of ice on the way. The man, Victor Frankenstein, told the crew his life story. He had a happy childhood, and he was crazy about natural philosophy and chemistry and basically tried to play God by creating life. When he found the secret of activating dead flesh, he created a monster. Although it was all made by good materials, but it became something ugly. Then he found the monster missing. When the monster was born, he loved the world very much. He hid in the mountains and learned to use fire. But because of his appearance, he became disgusting in
everyone's eyes. When he knew that his only master abandoned him, he was so disappointed to this world that he began to kill his master's family one by one. Victor finally found the monster. The monster told Victor his experience, and demanded of Frankenstein a female mate who he can be with until his end, and promised to live away from society. Victor made the second monster, but quickly destroyed it. As return for him breaking the promise, the monster killed Elizabeth on the wedding night of Victor and her. From then on, he chased after the monster, and finally he was discovered by the crew on Robert's ship. There victor ended his story, and died in front of the men. That same night, the monster entered the room where victor laid dead. Finally, the monster scampered into the ice fields.
In my opinion, the causes of this tragedy are the society and the scientist. If a person is hated, he will become evil and do something wrong. After being treated so badly and unfairly, the monster killed many people for revenge because of the cold society. I have an opinion that we'd better do what we can to be kind to other people, which is beneficial to all of us.
To sum up, what a great story!
第二篇:时事新闻摘抄:Kerry asks for benefit of the doubt on Iran nuclear talks 3900字
Kerry asks for benefit of the doubt on Iran nuclear talks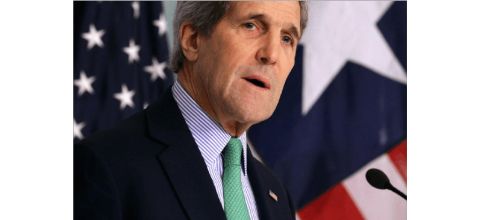 WASHINGTON (AP) -- Secretary of State John Kerry on Sunday tried to calm tensions with Israel before Prime Minister Benjamin Netanyahu's congressional address, yet insisted the Obama administration's diplomatic record with Iran entitles the U.S. to "the benefit of the doubt" as negotiators work toward a long-term nuclear deal. Kerry said in an interview broadcast before he left for more talks in Switzerland with Iran's foreign minister that Netanyahu was welcome to speak in the U.S. and that the administration did not want the event "turned into some great political football." That sentiment was a step back from some of the sharp rhetoric between the allies in recent weeks, and Kerry mentioned that he talked to Netanyahu as recently as Saturday.
But Kerry stressed that Israel was safer as a result of the short-term nuclear pact that world powers and Iran reached in late 2013, and he described that improvement as the "standard we will apply to any agreement" with the Islamic Republic.
Officials have described the United States, Europe, Russia and China as considering a compromise that would see Iran's nuclear activities severely curtailed for at least a decade, with the restrictions and U.S. and Western economic penalties eased in the final years of a deal.
"We are going to test whether or not diplomacy can prevent this weapon from being
created, so you don't have to turn to additional measures including the possibility of a military confrontation," Kerry told ABC's "This Week."
"Our hope is that diplomacy can work. And I believe, given our success of the interim agreement, we deserve the benefit of the doubt to find out whether or not we can get a similarly good agreement with respect to the future."
Netanyahu, set to arrive in Washington later Sunday, will press his opposition to a diplomatic accommodation of Iran's program in a speech Tuesday to Congress. The prime minister says he is making the address out of concern of Israel's security.
The Republican invitation and Netanyahu's acceptance have caused an uproar that has exposed tensions between Israel and the U.S., its most important ally.
By consenting to speak, Netanyahu angered the White House, which was not consulted with in advance, and Democrats, who were forced to choose between showing support for Israel and backing the president.
"I will do everything in my ability to secure our future," Netanyahu said before flying to Washington. He described himself as "an emissary" of the Jewish people.
The congressional speech also has sparked criticism in Israel, where Netanyahu is seeking re-election on March 17. He also planned to speak Monday at the annual conference of the pro-Israel lobby AIPAC.
Netanyahu considers unacceptable any deal that does not entirely end Iran's nuclear program. But President Barack Obama is willing to leave some nuclear activity intact, backed by safeguards that Iran is not trying to develop a weapon. Iran insists its program is solely for peaceful energy and medical research purposes.
The dispute has become more personal of late.
Last week, Obama's national security adviser, Susan Rice, described the timing and partisan manner of Netanyahu's visit as "destructive" for the U.S.-Israeli relationship. On Sunday, Kerry painted a more positive picture of continued close cooperation. He said the U.S.-Israeli security partnership was closer than at any point before, and noted the large investment of American money in the Jewish state's Iron Dome missile defense system.
He said the U.S. government has "intervened on Israel's behalf in the last two years a couple of hundred of times" in more than 75 forums "in order to protect Israel."
+ 更多类似范文
┣
exercise sheet for 12 argumentative essay-2 reading and learning UNIVERSITY IN EVERY TOWN 200字
┣
Analysis on the Causes of the Break of Father's American Dream in The Triumph of the Egg (中文版) 2800字
┣
The Research of Chinese and Western Names in Cross-cultural Communication(论文读书笔记) 8900字
┣
Hamlet is a classical representative work of a great English playwright and poet 3300字
┣ 更多
the ultimate trainers读后感
┗
搜索类似范文